G

o

o

g

l

e

Apps for Work – it's even more than Gmail.
You may already have a free Gmail account and you know may already be aware of all the apps available to you with your free account. However, you may not know that there is a subscribed version that gives you proper and professional organisational control for your business – it is called Google Apps for Work. If you haven't already done it, now is always a good time to set your business up on Google Apps for Work, as it protects your business correspondence and information on one of the most reliable email systems in the world.
What is Google Apps for Work?
It is a minimal cost, subscription-based administration and productivity tools suite that is run from the cloud. By using cloud-based software, you can access your software used for business via your web browser or an app on your phone or tablet. All changes are saved in the cloud, which means your data is safely stored on secure, secure servers all over the world. Even if your computer, or even a whole country, loses power, you can still access your files and software through any browser just by logging in.
Have a look at the introductory video from Google explaining it all here, or, if you prefer you can read about the benefits outlined further down the page.
What are the benefits?
Well, aside from never having to worry about backing up your files yourself, it also has a suite of productivity tools that are widely used and well integrated – after all, it is from Google.
There are great advantages to using Google Apps for Work for your business or organisation:
Google Admin allows you to control all your own business email accounts using your own domain, assigned to user and/or group, like your accounts department, sales department, support, etc.

You can add users to your account for each person in your company or organisation, and individually assign them access to the many software apps that come with Google Apps. With these you can communicate and collaborate with each other and your customers by using not only your own customized Google Gmail, but also access to the many handy productivity apps that are included with Google Apps for Work.
Ideal for communication, cloud storage or collaboration, Google Apps for Work gives you the tools for your business to work better with staff, contractors or customers.
| | |
| --- | --- |
| Communication | Collaboration |
| Gmail – for all your email needs | Docs – Google's online wordprocessor |
| Hangouts – Google's own communicator (like Skype) | Sheets – easily create and share spreadsheets |
| Calendar – schedule appointments and invite others | Forms – make your own questionnaires |
| Google + – A better networking tool for business than Facebook | Slides – create and share your presentations |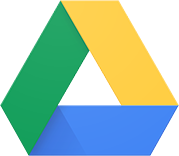 Google Drive is also provided with Google Apps for Work. With Google Drive you get 30Gb of online (cloud) storage per user, as a starter. One Terrabyte per user for a 5 user account, or unlimited storage for accounts with more than 5 users is also available. For an extra $10 per user per month, this is a cheap and reliable storage option.
There is no "save" button, only undo and redo buttons when editing Google Docs files. This means you don't have to remember to save all the time, and it saves you the worry of backing up your files on your computer (which you should do nevertheless). If your computer or device fails, you lose nothing. Simply log into Google Drive from another computer or device and you have access to your files again!

You can share any file from your Google Drive to anyone else without having to attach it to an email.
For example, let's say you type a document with product information on it. You want to have someone else, a staff member, or a supplier check the details are correct. You simply "share" the file with the co-editor, who can also edit the file. Once the document is ready, you can send it to the intended recipient with permission set to view only. This way, the document can't be changed by the recipient but they can view and print it.
Try it out
Why not give Google Apps for Work a trial run for 30 days? It's relatively cheap compared to other similar services available – and if you decide within the trial period that you don't want to use it, you can cancel the service without any trouble.
Busy? Don't have time? Wisefocus Designs can help you set up Google Apps for Work! Contact us to find out how.